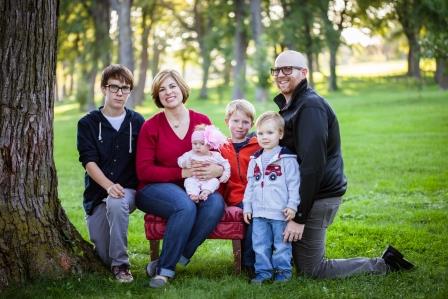 Alicia and Mike Battershell shared their experience in giving through the Omaha Community Foundation. These are their words.
About five years ago, we made a conscious decision as a family to organize our giving and formalize our estate planning. As our family was growing, it became imperative to us that we put things in order like wills, life insurance, and other family documents. Our goal was and remains to not only establish our giving priorities as a family, but to instill those values in our children.
Before we were involved with the Omaha Community Foundation, we were giving but in an unplanned way. We would receive solicitations and react to them based on emotion, timing, or other outside factors. When we learned about the Omaha Community Foundation and their ability to help us better organize through their charitable checkbook, it fit well with our desire to intentionally give. Not only does the checkbook allow us to better manage our giving so that we stay on track with our goals, but it also allows greater flexibility in our estate planning. With young children and changing priorities, we are able to structure our estate documents so that we can evolve and grow with our awareness and changing capacity.
The Omaha Community Foundation has been a valuable resource for us—from research and asking questions about giving opportunities, to tracking our giving and ensuring funds for future giving. The Omaha Community Foundation gives us immediate tax advantages while saving for a larger fund. We are able to prioritize a gift based on how it meets our family values, evaluate our capacity on objective metrics and track year over year giving.
We highly value how the Omaha Community Foundation raises awareness through grants to emerging non-profits and through Omaha Gives! As we continue to learn about Omaha and raise our family, we expect the Omaha Community Foundation to play an important role in how we implement our family values and express the importance of charitable works to our children. We have established an account within the Omaha Community Foundation and work with our estate planner so our children can learn how we support the larger community and then practice themselves using these funds.