Key Points
The most equitable transportation systems offer multiple options for transit and are designed for everyone in a community.
Cars are overused and local spending on public transit is low when compared to other states and peer cities.
Omaha is implementing a comprehensive transportation plan in the urban core to spur economic development and create more connectedness. Changes include less private parking, more two-way streets, a new transit bridge between Omaha and Council Bluffs, expanded bike lanes, and three miles of streetcars.
Local nonprofits are partnering to fill in the gaps in the city's most urgent transportation needs.
Every member of a community needs to have access to reliable and timely transportation—it's an important part of a healthy and vibrant life. However, Omaha depends primarily on cars for transportation, so those without a car may not be able to achieve the life they want.
Without a car, everything in the Metro becomes significantly more challenging. The effort and time it takes to get around can become insurmountable for those who don't have access to their own vehicle. Ultimately, a lack of transportation limits people's access to good jobs, schools, healthy food, and healthcare.
"Transportation is access and access is the equity of opportunity," said Scott Dobbe, Executive Director of Omaha by Design.
We checked in with representatives from three local nonprofits to get their insights about how The Landscape of transportation looks these days: Eastern Nebraska Community Action Partner (ENCAP), Omaha by Design, and the Greater Omaha Chamber. Our goal for these conversations was to examine transportation in Omaha through the lens of what local nonprofits are doing, especially to help level the playing field for people of all ages, races and ethnicities, zip codes, and income levels.
Public Transit is for Everyone
Most of us take transportation for granted in this car-driven culture, with minimal consideration or planning for those who do not own a car, according to Aaron Bowen, Executive Director of ENCAP.
"The general idea is if you are experiencing poverty, just ride the bus. But why is that the best we can have to offer?" Bowen said. "Everyone deserves a reliable route to work whether they have a car or not. Families already have enough on their plate with kids, medical appointments, work, and taking care of other family members. They don't need to wait at the bus stop with three kids in the snow, hoping they'll get to work on time."
Dobbe echoed this sentiment, saying, "The city we inhabit shapes the opportunities for each of us and all of us to thrive. That makes transportation critical."
It's widely accepted that the best transit systems provide multiple suitable transportation options for everyone, no matter their income level. One person may choose to ride their bike to work most days but take the bus when it's too cold; meanwhile, their co-worker may carpool with a friend. Another person needs to be able to safely walk to get groceries, while yet another may want to drive to the same store for a big shop.
"When we think about equitable transportation it's about having multiple different options other than driving a car. If you want to drive that's fine, but that's not going to work for everyone," said Stephen Osberg, Director of Transportation and Urban Development at the Greater Omaha Chamber.
Omaha Transportation Spending is Low
For decades now, we've known that local transportation spending and services are lacking when compared to both other states and peer cities to Omaha. Transportation has shown up as one of the top five community needs in every assessment that's been done for years, with our biggest priority being to create more connectedness throughout the city with improvements to public transit, walking, and bicycling.
"Omaha's per capita spending on transit is shamefully low," Dobbe said.
Osberg agreed, adding, "Metro does a lot with little, but they need the support to do more." He pointed out that Metro (public transit) can't compete when compared to other cities' spending on transportation per capita. Omaha spends $40 per capita on transportation while its peer cities spend an average of $75 per capita. Low spending is reflected in ridership.
The Landscape found that people of all income levels use public transit at a consistently low rate with only one percent of overall residents and three percent of those in poverty using public transit to get to work, compared to a national average of five percent.
Emily Nguyen, Director of Research & Strategy at the Foundation, said that it's a bit of a chicken or the egg scenario. "Without deeper investment in public transit it is harder to see the ridership increase," she said.
Without a Car, Job Options are Limited
Currently, there are only two small census tracks—near Midtown Crossing and Crossroads Mall—where someone can reach 45,000 jobs within a 45-minute period or less via public transit.
"But even there, that's only 28% of available jobs in the city," Osberg said. "By providing better transportation services and changing land-use patterns, the city would open opportunities for workers. Because if you don't have choices in the kind of jobs you have to choose from there is no freedom." 
Transportation Costs Workers Too Much
Lower-income workers are spending more than they can afford on transportation, with many workers spending from 20% to 30% of their take-home pay on transit. AAA estimates an annual cost of $9,000 (or $750/month) to own a car.
"That's a great burden we place on folks," Dobbe said. "Your life is stressed if you're spending 30% of your income on transportation." He added that these numbers emphasize the enormity of the challenge but also the opportunity for Omaha to show that it cares for its residents by becoming a city that doesn't leave anyone behind. "If we subsidize the airport and federal highways, we can also publicly support transit."
The Pandemic Exacerbated Problems
Similar to other areas within our community (such as housing and health), the pandemic shined a light on the gaping holes in Omaha's transportation system.
Throughout the pandemic, public transit ridership decreased; some routes went from running every 15 or 30 minutes to running just once an hour, the number of routes decreased, and some routes were eliminated. Seniors were adversely affected as some of the reduced routes were in areas where many of them live. Additionally, the pandemic caused many people to need more help than usual from social services, which led to new transportation needs.
Despite these setbacks, Omaha continued to move forward on its 30-year transportation plan.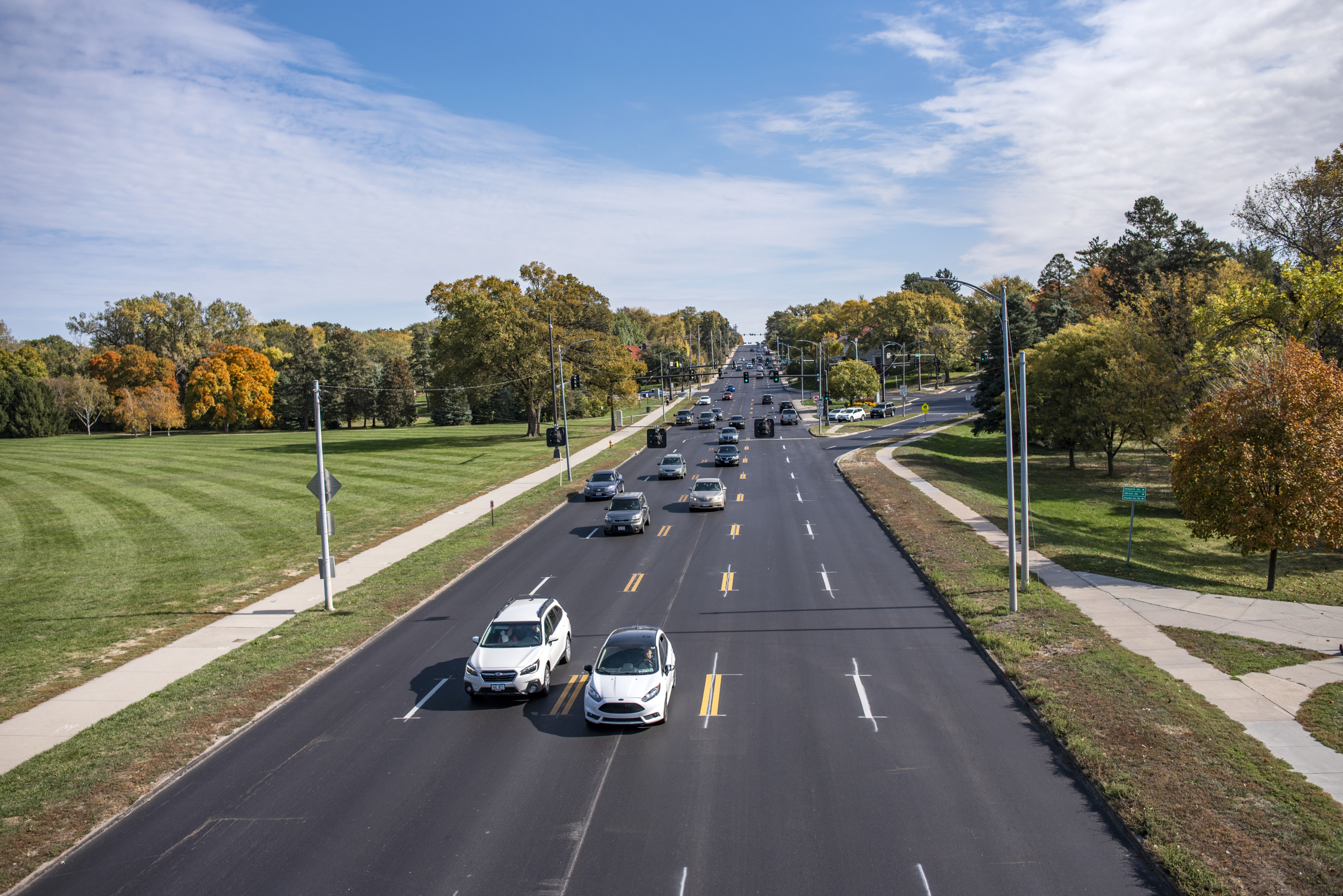 Action to Strengthen the Urban Core
Osberg spoke about the city's robust plan to grow Omaha's network of transportation, especially in the urban core. As a part of this plan, downtown will get more two-way streets, a new transit bridge between Omaha and Council Bluffs, expanded bike lanes, three miles of streetcar tracks, and a re-envisioned parking plan downtown.
The plan is driven by The Heartland 2050 Vision and is being implemented through a partnership between the city, the Chamber's ConnectGO initiative, and a lot of public engagement that included over 8,000 survey responses, focus groups, workshops, and interviews. Osberg noticed a resounding theme in the feedback. "One thing we heard more than anything is people want to live in walkable neighborhoods where they can fulfill their daily needs," he said. "So, we oriented our strategy toward connecting neighborhoods together through transit, biking, and walking."
ConnectGO's goal is to offer more transit options and connectedness within the urban core that will create economic development and turbocharge the city's transportation investments. As of now, development in the urban core has maxed out, Osberg said, and it's time to approach land use more creatively and build more density.
"We need people to get to and from where they are going because car storage is just too expensive and takes too much space," he said. In the past, downtown employers have built their own parking garages for employees, which greatly increases the square footage required for each worker.
With more transit options and less parking, the urban core will gain more usable, more valuable space. For example, a 4-5 story office building can become an 8-10 story office building. As a part of this change, employers will need to be more proactive in figuring out how to provide transportation for their employees through paid transit passes, organizing formal carpools, and more. "They have to have a plan for how they are going to move everyone to and from the site. That is less shiny, but it really moves the needle," Osberg said.
A Streetcar Brings New Options
The addition of three miles of streetcar downtown provides a new option for getting around the highest-density area of the region and is expected to improve the overall function of public transit in Omaha.
The Landscape reports that the current transit system is more focused on trying to reach everyone rather than being centered around high-density areas.

The streetcar will help to solve this issue, providing more access to transit where it's needed most. Nguyen,  Director of Research & Strategy at the Foundation, added that "increasing ridership in these higher density areas is a better investment into public transit because it provides a higher return."
The more development we have in the urban core, the more people it can support—and the more economic development that's possible. Osberg said the streetcar will not only add travel options and improve connectedness—but it will also serve as an economic development tool.
"Without the streetcar, Omaha might see around $1 billion in development within the urban core over the next 15 years," Osberg said. "The streetcar should help bring $3 billion in development "and without it, you don't have the same vibrancy."
Connecting the North-South Corridor
But what about connecting North and South Omaha to the urban core? Osberg said this is an important initiative that is also being tackled. The urban core transit development is being paid for with local dollars via tax-increment financing since it will bring a high rate of economic growth to the city.
Extending a rapid transit bus line going North-South, while crucial to the city's overall transit needs, will not bring the same level of economic growth that is expected downtown. So instead of local spending, the city is seeking federal grant funding for a rapid transit connection to downtown from both North Omaha and South Omaha.
Osberg said that Omaha has already won a federal grant for $1.6 million to begin the process of dramatically enhancing transit service along 24th Street. The project will be $45 million all told and if grants continue to be won, Omaha's second rapid transit route could be in operation as early as 2026.
Meanwhile, Residents' Needs Don't Wait
While much is in process to improve the transportation system, additions and improvements to the infrastructure take time. Meanwhile, many residents are stuck.
"Seniors and working families aren't looking for a plan," said Aaron Bowen of ENCAP. "I don't know if many riders have picked up the latest transportation report. They know what they need: they need rides now."
ENCAP Offers Custom Solutions
To address the most urgent needs, ENCAP launched its own transportation program three years ago. Their fleet of 13 vehicles provides transportation to and from school for ESL/migrant and homeless students of OPS, and reliable rides to career seekers and older adults. The program also delivers food to homebound seniors, individuals impacted by domestic violence, and families with children receiving support via Douglas County Community Response.
ENCAP drivers take riders door to door throughout every zip code in Douglas and Sarpy County, filling a gap for people who don't have access to public transportation, people who are underpaid or underemployed, and those who work shifts that don't fit within public transit run times.
The program is designed to provide custom solutions. For example, a parent can drop their kids off at daycare, then go on to work. At the end of the day, they may be able to stop at the pharmacy before picking up the kids from daycare and heading home again.
One of ENCAP's partners is providing 145 rides to work per month for young adults who have aged out of foster care.
"The need for that population is extremely high. They have very little support. Almost 40% don't have transportation to get to job opportunities," said Rhonda Freeman, ENCAP's Transportation and Nutrition Manager. "Without transportation support, a lot of young people will lose job opportunities, and as that happens, it gets harder and harder for them to get stable employment. My team works very hard to make sure they get to work on time… This is their chance to increase their economic stability."
Rhonda goes on to tell the story of one young woman who called ENCAP this week to say she bought a car and doesn't need a ride to work anymore. Having free transportation for several months gave her the time she needed to save up to buy a car of her own. Now someone else can sit in the seat she occupied, and hopefully get the boost they need to begin their adult life.
"We want to make it as easy as possible for people to get to work and home again. And we want to measure impact, not this many rides, this many riders," Bowen said. "We want to know if someone was able to keep a job, or if a senior feels less isolated and has a more vibrant life."
Once they prove it works, ENCAP hopes to vastly expand its partnerships and services.
Osberg reinforced the idea that a coalition of local organizations could quickly solve the most urgent transportation needs.
"There are so many human services that people in the region need and almost all of them have their own transportation systems, which creates duplicate services," Osberg said. "With new software, it's possible to coordinate all those trips. And with collaboration, it's possible to consolidate those services into one entity that is responsible for that type of transportation."
A Commitment to Transportation Connects Us
Transportation improvements are a major investment, and like any public venture, they don't happen overnight. But with good planning and thoughtful processes, local nonprofits are working hard to partner with residents, local businesses, and city leaders to improve the future of transportation.
"Transportation is the connective tissue of a strong community," Dobbe said. "By improving transportation for everyone we show our commitment to being an equitable and inclusive city."
support a NONPROFIT WORKING IN TRANSPORTATION
Check out The Landscape