On my walk to work this morning I spotted the Mutual of Omaha trees being adorned with holiday lights. There is no denying now that the season of giving is descending, and so we thought we would kick it off by awarding our 2013 African American Unity Fund and Futuro Latino Fund grants. $230,000 was granted to 17 local organizations.
 We had a lovely evening last night at Love's Jazz  and Art Center full of community, cake, and (of course) checks.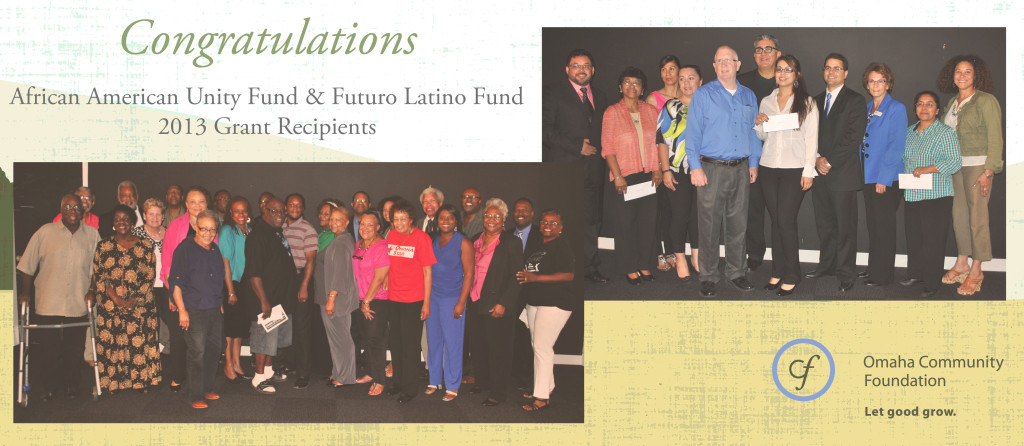 African American Unity Fund
Banister's Leadership Academy – $20,000
Black Men United – $10,000
Bryant Center Association – $15,000
Compassion In Action Inc.– $10,000
Good News Bears Club of Omaha, Inc.– $10,000
Great Plains Black History Museum – $20,000
J's Braintrust Consulting Services Inc.– $10,000
Mildred D. Brown Memorial Study Center, Inc.– $10,000
North Omaha Neighborhood Alliance – $20,000
Voice Advocacy Center – $10,000
You Are Not Alone Inc.– $10,000
Futuro Latino Fund
Mujeres Activas – $10,000
Comunidad Maya Pixan Ixim – $10,000
DREAMers Project – $30,000
Sisters of the Presentation of the Blessed Virgin Mary – $5,000
The Language & Culture School of Omaha – $10,000
Victory Boxing Club – $20,000
Visit the Community Interest Funds pages for more info and to apply.