When a worker at a meatpacking plant contracted coronavirus, her employer offered two weeks of paid leave. After that, "Julia" continued to struggle with long-term health issues caused by COVID-19.
The plant was putting pressure on employees to work harder, making the line move faster because they didn't have enough workers. Julia continued to work through her fatigue. She needed the income.
The following month, one of her house members got COVID, and she had to quarantine again—this time without any benefits. This situation repeated three or four times. All told, she lost $10,000 in income and nearly lost her home because she couldn't make rent.
"Her employer was inflexible and didn't develop any other type of help for the employees," said Lily Reyes, senior organizer at Heartland Workers Center, who heard this story firsthand from one their community leaders. "They paid for one quarantine. That's it."
Workers have suffered throughout the Omaha metro during the pandemic, especially essential workers, immigrants, and women of color. Local nonprofits report that employment and wage gaps that existed before the pandemic have only been exacerbated.
Workforce is one of the five focus areas of the Community Resilience Fund, which we launched in April 2021. Anyone can donate to support local nonprofits serving communities disproportionately affected by COVID-19. The third round of funding was recently announced.
Recognizing the Value of Essential Workers
Many in our community are in urgent need of employment, job development, and support for basics like childcare, job safety, and health care.
Heartland Workers Center is fighting for real, lasting change to happen. Their stance is that nonprofits, educational institutions, and unions need to keep putting political pressure on companies to keep awareness of workers' rights in the public eye.
Stimulus Funds Didn't Benefit Everyone
The stimulus package helped a lot of people, but it didn't help everyone. Many of those in need are workers who don't have the proper documentation; they still struggle. Heartland Workers Center is advocating for immigration reform laws to be passed that will help with the rebuilding after the pandemic.
Among Those Severely Impacted, Black Women
I Be Black Girl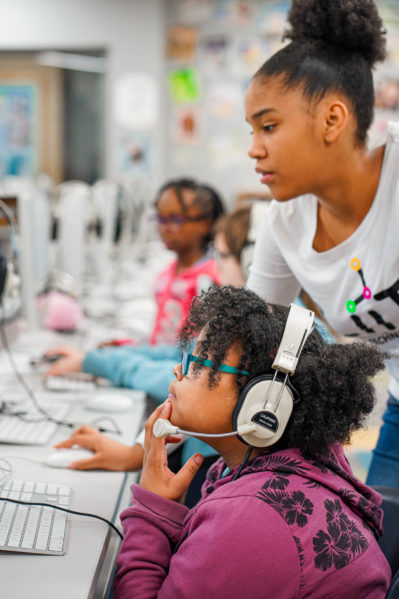 is a collective that creates space for Black women, femmes, and girls to access their full potential. Entrepreneurial support is one of the levers used to advance the mission.
"Black women are the fastest-growing entrepreneurial segment in the nation," said Ashlei Spivey, founder and director of I Be Black Girl. "They are doing it because they are innovative, but also out of necessity."
Black women face a larger pay gap and higher rates of underemployment.
"The pandemic only highlighted inequities that already existed," Spivey said. "It shined a light that you cannot turn off. Black women are disproportionately underemployed, experience the largest pay gap, and are working multiple jobs that are often classified as essential jobs like service or hospitality."
"Black women are the fastest-growing entrepreneurial segment in the nation. They are doing it because they are innovative, but also out of necessity." Ashlei Spivey, founder and director of I Be Black Girl
Erin Porterfield, executive director of Heartland Workforce Solutions, reiterates that investing in Black women with young children is one of the most important things we can do now.
"We need to understand the depth of how people haven't had a level playing field," Porterfield said. "We're carrying the knowledge that our community is highly segregated and we're great at racism. We're not getting it yet to understand how we got here. There is lots and lots of room to grow."
Rethinking Workforce & Economic Opportunity
Employment rates are rising in the Omaha metro, according to a recent regional job market study. But some people are reluctant to seek jobs because of ongoing health conditions, a lack of safe and affordable childcare, or needing to take care of their own family members.
"It's not that people don't want to work," Porterfield said. "It's more: Is the time right, are all the pieces in place, is my family safe?"
Women with young children and people of color, who have been disproportionately impacted, have been slower to return to work. Black community members, especially women, have predominately shouldered the burden.
Spivey highlighted the need for the community to prioritize its investments in Black female founders.
"We have to start addressing core root issues and get to economic freedom, not just provide services to the symptoms," Spivey said. "We shouldn't be investing in the same thing over 100 years or even 50 years. I'm hoping community members are interested in addressing these core root issues so that all Nebraskans can reach their full potential. We know that if you prioritize Black women and girls, that will happen."
Our community will need to create clear pathways for opportunities, rather than staying stuck in the "old way" as Porterfield put it.
"The old way is creating a stockpile of part-time jobs where you can't feed your family well because it doesn't come with benefits or childcare," Porterfield said. "The new way will be: Let's figure out good jobs and advocate for childcare and transportation or work-from-home benefits."
Heartland Workforce Solutions connects job seekers to employers and provides training and resources for those looking for work.
Nonprofits overwhelmingly said that many new practices that were learned in the pandemic could continue. It will be important to keep equity and access at the forefront as these new learnings are implemented, with the consideration that not all community members have access to technology and stable internet.
"We now know that many people can work remotely," Porterfield said. "We've learned a lot that we wouldn't have learned without a pandemic."
Give to the Community Resilience Fund
We invite you to learn more about the Community Resilience Fund and support the ongoing work of nonprofits to meet local workforce development needs caused and exacerbated by the COVID-19 pandemic.